Autumnal Lentil, Squash and Vegetable Stew
1 cup Toor Lentils (Split pigeon peas)
2/3 cup fall squash (Butternut, Kabocha, Blue Hubbard, Buttercup, etc. will all work)
2 baby eggplant
3 potatoes
4-5 green beans
1 medium onion
1 tsp salt
1 tsp turmeric
1 tsp grated ginger
1 tsp white sugar
1 tsp Panch Phoron*
1 large bay leaf
4 whole red chillies
To garnish:
1 tsp cumin seeds
1 tsp chilli flakes
Cilantro
* If you do not have Panch Phoron, use 1T of brown mustard seeds, 1T of cumin seeds, 1T of fenugreek seeds and a splash of maple syrup.
Directions:
This recipe is easiest broken into three steps: lentils, roasting, and tadka before combining into one tasty dinner.
Lentils:
Wash lentils under cold water until water runs clear.
Cover lentils with water in a bowl for an hour (can also be done before leaving for work to leave out during the day).
After the 1+ hour, rinse lentils again. Add rinsed lentils to a pot with two cups of water and bring to a boil for 15 minutes.
Dice onions.
After the lentils have boiled, add onions, tumeric, ginger, salt, and green beans.
Roasting:
Preheat oven to 400°.
Begin peeling and dicing the eggplant, squash, and potatoes.
Sprinkle Panch Phoron over the vegetable mixture.
Place veggies in oven for 30 minutes.
After removing from oven, combine with lentil mixture.
Tadka:
Melt ghee in a pan and add 1t sugar, a bay leaf, 4 whole red chilies.
Stir into lentil and vegetable mixture.
Note: In all honesty, I did not do the tadka step. We threw everything into the lentils, added some garam masala, and called it a meal.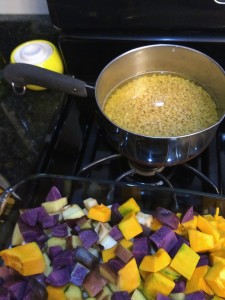 Source: The Evening Standard