Thai Beef Salad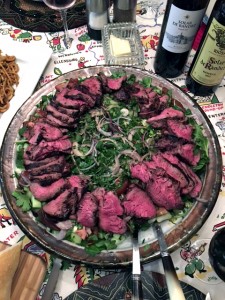 Servings: About 4
Ingredients:
1/2 lb of beef
2 tbs oil(corn, peanut, or vegetable)
1 cup lime juice
1/2 cup fish sauce
1 tbs minced garlic
8 sprigs of coriander
1/2 teaspoon hot pepper flakes
8 cups greens (mizuna, red mustard, and arugula were used for this dish)
1 cup scallions chopped
1 cucumber
2 tomatoes
1 red onion
Directions:
Combine fish sauce, lime juice, coriander, garlic and pepper flakes in a small mixing bowl.
Put greens, scallions, onions, cucumber, and tomatoes in a large serving bowl.
Cook the beef, grill or broil, when done rest meat for a few minutes, then slice put on salad, toss salad with dressing.
Note: I use various types of beef, tenderloin last night, often I use london broil, whatever cut you like. Greens are also up to you, often I use a mixture, like watercress and arugula. The basic recipe can be adjusted as you like, more meat if you want, certainly more cilantro, oil amount can be increased. The main taste is the lime juice and fish sauce, it is really an easy and tasty meal.
Submitted by CSA member, Greg Gagnon.