Swiss Chard and Tomato Tart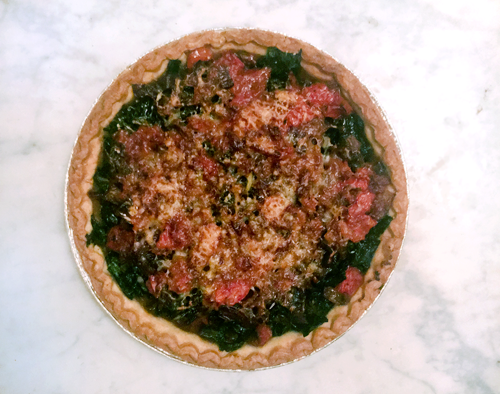 Ingredients:
Pastry Shell
Use your favorite pastry recipe (one crust) or buy pre-made.
Butter an 8-inch fluted tart pan.
Prick bottom of shell lightly with a fork and refrigerate shell 30 minutes.
Swiss Chard, Tomato and Onion Filling
1 pound Swiss chard (or chopped kale)
1 tsp fresh thyme or ¼ tsp dried
3 Tbsp unsalted butter
1 large garlic clove, minced
Salt and fresh ground pepper
2 ounces Gruyere cheese, cut into 1 ¼ x 3/8 x1/8 inch strips
2 Tbsp olive oil
1 med sized onion, halved and sliced
¼ cup Parmesan cheese
10 ounces ripe tomatoes, peeled, seeded and chopped
Directions:
Remove stalks from chard leaves. Rinse leaves thoroughly. Stack de-stemmed leaves and cut in half crosswise, and then lengthwise, into ½-inch wide strips.
Over low heat in a large skillet, melt 2 tablespoons butter. Add half of the chard to the skillet and a pinch of salt and pepper.
Cook, for about 6 minutes, stirring often, or until tender. Remove with tongs. Add left over chard and a little salt and pepper and cook it also until tender. Return all of chard to pan and heat, stirring, 1 minute. (I combined everything and that worked fine for me.) Transfer to a plate and cool to room temperature.
In a medium-size skillet, heat a tablespoon of butter and a little oil over low heat. Add the onion with a pinch of salt and pepper. Cook for about 15 minutes, until translucent but not browned. Add in the tomatoes and thyme. Raise heat to medium-high. Cook for roughly 15-20 minutes, or until the tomato juice has evaporated. Stir in garlic and taste to adjust seasoning. Cool to room temperature.
Heating a baking sheet in the oven, preheat to 400 F. Spread chard evenly within tart shell. Chop Gruyere cheese into strips and place evenly over mixture. Layer with tomato mixture and sprinkle with parmesan cheese.
Set tart on the warming baking sheet in oven. Bake 30-40 minutes, until pastry is brown around the edges and the filling browns on top (this should be noticable if parmesan was the last ingredient you added). Cool for 10 minutes on rack.
Remove tart pan rim. The tart can be kept for one day in refrigerator if covered. To reheat, warm in 300 degree oven before serving.