Spaghetti Squash Lasagna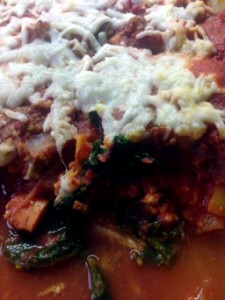 Ingredients:
1 large spaghetti squash
For the Sausage Layers:
1 lb Italian sausage
1 onion, diced
Kosher salt and black pepper
3 cloves garlic, minced
1 cup spinach or kale
For the Tomato Sauce Layers:
1/2 onion, finely diced
2 carrots, peeled and sliced
8 oz mushrooms, sliced
1/2 red pepper, finely diced
2 cloves garlic, minced
1 sprig rosemary, minced
Kosher salt and black pepper
Oregano
Italian seasoning
2 28 oz cans crushed fire-roasted tomatoes
2-3 tablespoons butter
For the Cheese Layers:
6 oz mozzarella cheese, freshly grated
1 oz Parmesan cheese, freshly grated
Italian seasoning
Directions:
Preheat oven to 375°.
Cut squash in two, removing the seeds and put in a pan, face down, with about 1/2 an inch of water and roast for one hour.
Scrape strands of spaghetti squash into colander until you're ready to assemble the lasagna.
Brown the sausage in a pan on medium-high heat (if using). Add onions and season mixture with salt and pepper. Saute onions until translucent. Add the garlic and kale (or spinach) and mix until kale is wilted.
In a separate pan, make the tomato sauce. Add butter to a pan and when melted, add the onions, mushrooms, carrots, and red peppers. Saute over medium heat until veggies start to brown. When that happens, add the rosemary, garlic, salt, pepper, oregano, and Italian seasoning. Stir well to combine. Add in the tomatoes and more butter. Sample to taste and adjust the seasonings if necessary.
Put the lasagna together. Add half of the spaghetti squash to the bottom of your baking dish and flatten with a spatula. Next add half of the sausage mixture and half of the tomato sauce. Cover with half of the cheese.
Repeat. Add rest of mozzarella and Parmesan cheese.
Bake for 30 minutes, uncovered. Let it rest for about 15 minutes before serving.