Carrot Sweet Potato Soup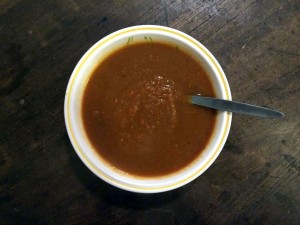 Ingredients:
1 lb carrots, peeled and chopped to 1″ pieces
2 large granny smith apples, peeled, cored and quartered
2 medium sweet potatoes, peeled and cut to 1″ pieces
3 stalks celery, chopped
1 small sweet onion, chopped
5 cloves garlic, chopped
1 bay leaf
1/2 teaspoon red crushed pepper flakes
32 oz vegetable broth plus water to cover all ingredients
1 stick room temp butter (optional)
Salt and fresh ground pepper to taste.
Directions:
Place all veggies, spices and broth/water (just to cover ingredients) in slow cooker or large pot.
For slow cooker, heat on LOW for 8 hours.
For stove top, bring to boil then simmer for 45 minutes to an hour.
Remove bay leaf. Add butter. Puree and serve with a sprinkle of salt and fresh ground pepper.