Cabbage Soup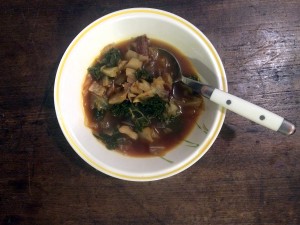 Equipment needed: large slow cooker
Ingredients:
5 pcs bacon, cooked
1 head cabbage, core removed and chopped into bite sized pieces
3 cloves garlic, chopped
1 medium onion, chopped
1 bay leaf
1/4 tsp red pepper flakes
1 tsp salt
fresh ground pepper
6 leaves kale, leafy parts only, chopped
64 oz vegetable broth
Directions:
Place bacon, garlic and onions in slow cooker. Add all other ingredients plus enough water to cover the cabbage. Cooker will be full.
Cook on high for 6 hours or low for 10 hours.
Remove bay leaf and bacon and serve.
If you are not using a crockpot, first cook bacon in a skillet. Cook onions and garlic in the bottom of a stock pot until not raw. Add everything in the stock pot and simmer for 1 hour. Soup will keep for a week in the refrigerator.
Submitted by CSA member Abbi, who rarely cooks with a recipe but thinks this is adapted from an old immigrant recipe.
SaveSave