Blue Hubbard Squash and Sage Shrub
I still had three Blue Hubbards sitting on a sideboard after the first week of April. What was I to do with three massive squashes in the middle of spring? I couldn't make something that tasted like a November dish. The answer had never been clearer: host a squash party!
A squash party is not just for having roasted or cubed squash. No, not only would this be my first time hosting a dinner party, but I made it my mission to incorporate squash into each of the recipes I doled out. Worried about running out of food, I prepared four dishes and this drink. Little did I know this would be the star of the party. Without further adieu, here is the knock-out recipe for the Blue Hubbard shub.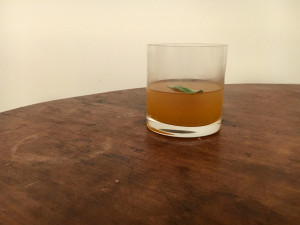 Ingredients:
SHRUB
1 Blue Hubbard squash
1 cup granulated sugar
1 1/2 cups apple cider vinegar
2 tablespoons fresh sage, roughly shredded
COCKTAIL
Ice
Vodka, rum or bourbon
Ginger-ale, cream soda or ginger beer
Garnishes: maple syrup, sugar, fresh sage, vanilla beans
Instructions:
Preheat oven to 425 degrees.
Fill pan about 1/2″ deep with water and place broken pieces of squash* in pan.
Bake the Blue Hubbard for 45 minutes or until the meat of the squash is cooked through and can be easily punctured with a fork.
Let cool.
Scoop baked squash into a bowl and use an immersion blender to puree.
Scoop 2 cups of the pureed squash into a glass jar (I used a 1-quart Ball jar) and add one cup of sugar. Stir together and place the screw the lid on. Let the mixture sit in the refrigerator overnight, or for 12 hours.
After the mixture sits for 12 hours, add one and a half cups of apple cider vinegar and the chopped sage. Screw the lid back on and give it a few good shakes. Let it sit for another five hours.
Pour the mixture through a fine mesh sieve to strain, before pouring the shrub into a jar.
Place jar in refrigerator until you're ready to make the cocktails.
Cocktail time! Combine 2 shots shrub, 2 shots ginger beer, and 1 shot whiskey or alcohol of your choice.
Serve immediately and enjoy.
*How the hang do I cut into a massive squash? Trust me, it's much simpler than you think. Do not try cutting into that massive orb sitting on your counter. Walk outside and drop the squash on your steps or driveway. It won't bruise, but it will crack open and from there you can carve it into smaller pieces.
Source | Runway Chef